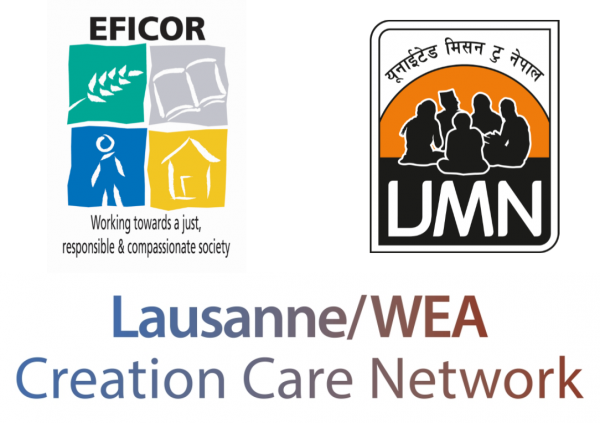 South Asia Regional Creation Care Conference
Part of the Lausanne/WEA Global Campaign for Creation Care and the Gospel
Hotel View Bhrikuti, Godavri, Lalitpur, Nepal
The South Asian region is one of the most vulnerable regions in the world that is affected every year by disasters – floods, landslides, earthquakes. We are also home to the largest number of people living in poverty. The devastation that we see every year reminds us that caring for God's creation is not just an option or something that should be left in the hands of specialist organisations. Learning to live in and care for the world that God has given us is of the utmost importance for all of us, and particularly for the poor and vulnerable.
In this regard, we want to invite you to an important conference to be held in September of this year, hosted by The Lausanne Movement and World Evangelical Alliance along with several local organizations. The conference will be held in Nepal.
Here's what you need to know:
Why?

This conference is part of a global campaign by Lausanne and the




WEA to help encourage, strengthen and start creation care movements in many countries around the world. The campaign is a partnership between Lausanne and WEA, with the Evangelical Fellowship of India Commission on Relief (EFICOR) and United Mission to Nepal (UMN) as local hosts.
Who should come?

Conference participants are being invited from the South Asian countries (Pakistan, India, Nepal, Sri Lanka, Bangladesh and if possible Afghanistan and Maldives). We will be looking for people who are church leaders, theologians, scientists and creation-care practitioners.
What will we do?

The conference will be organized around three themes: God's Word (what the Bible has to tell us about creation care); God's World (what is happening in creation) and God's Work (what we as God's people should be doing).
When? Sept 12 – 16, 2016.

The conference will be in Nepal with participants expected to arrive on the morning of 12 Sept and leaving in the afternoon of 16 Sept. Participants will arrive into Kathmandu from where transportation will be arranged to the venue.
How much?

The conference fees are applicable to all participants including speakers and presenters. The fees include board, shared accommodation and pick up and drop to the airport. Single rooms may be available at additional cost.
USD 400 – for participants representing organizations or able to find organizational funding
USD 300 – for participants who have to raise individual support
Speaker suggestions and questions on the invitation procedure should be sent immediatelyto Ms. Kuki Rokhum at cccsouthasia(at)gmail.com.